As the holiday shopping season approaches, it's time to start making your gift list, so you have a general idea of what type of gift you want to purchase for each recipient. I also find it helpful to set an overall budget, then break that down per person, so you don't overspend and get yourself in financial trouble.
Once I have my budget and idea list ready to go, I start watching for sales. I make sure I am signed up for the email subscription lists for stores that I like, and when I'm ready to make my purchases, I have a look online to see if I can find any coupons, promo codes, free shipping codes, or other discounts to help me stretch my budget as far as possible.
Here are my favourite Christmas Holiday Budgeting Tips that I use every year
Start saving to your Christmas account each month
Hopefully, you've been able to set aside money each pay period into a savings account for Christmas, saved some tax refund money, or get a Christmas Bonus to use. If not, make sure you prioritize this starting January 1 of the New Year, so you don't have to stress out at the holiday season. It's very freeing to be able to pay cash for all gift purchases!
Even if you don't think that you can put aside too much each month, make sure it's something even if it's just a few pounds.
saving tips
Be realistic about how much you can spend
Look at your overall financial situation, and be realistic about how much money you can afford to spend. We'd all love to purchase expensive items for our loved ones, but it's not financially responsible to do that, and no one wants you to get into financial trouble because you overspent on gifts for them.
Divide your Christmas budget per person
Once you have a total amount to work with for the holiday season, you need to break down how much you can spend per person. You can find creative ways to bring people joy with the gifts you purchase, but you have to know how much money you are working with before you can get serious about shopping for them.
Choose your gifts thoughtfully
Now that you have a budgeted amount per person, really take some time to think about each recipient, what they enjoy spending their time doing, something they need and maybe wouldn't purchase for themselves, or something that reminds you of a special time you spent together.
One of my closest friends once gave me a gift that cost her £5 as a joke, with another item, because it reminded her of us. Fast forward 10 years, I still have that £5 gift, it's on my dresser, and it makes me laugh and think of her every time I see it. Special gifts don't have to be expensive to be meaningful!
Suplement your christmas gift budget by making your own gifts
If your Christmas budget is tight, you can always make your own festive gifts for your friends and family. But, before you get excited about various craft projects a word of warning! There is a fine line between homemade gifts that will be appreciated by the recipients and homemade gifts that are likely to end up in the bin.
The difference, I think is that you first need to think about the recipient (what do they like, whan would they really appreciate to get, what are their hobbies?) and then asses your own creative skills to see whether you actually can make or create that kind of homemade present!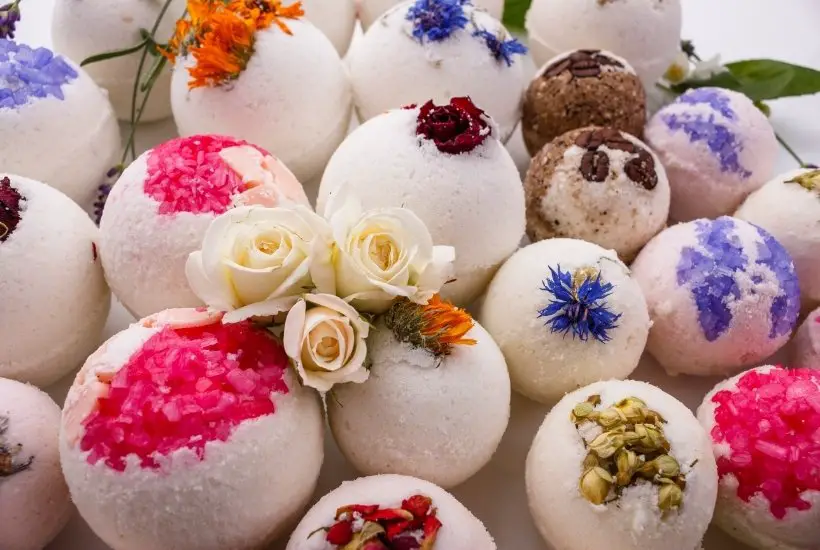 I think, it's a general misconception that 'homemade gifts' are always appreciated. Yes, sure, they are always politely accepted, but if they are badly made, don't have any real purpose or they are something that the recipient would never choose themselves, they are not going to be remembered and people might even think that you've gave them a cheap gift, because you don't like them.
If you are thinking of making your own Christmas presents this year, go with something that's easy, but effective at the same time. You can learn how to make simple bath bombs really quicky and buying the right bath bombs moulds will make your bombs look professional and also save you time and money in the long run.
I also find that homemade soaps with pretty festive decorations are a great stocking filler and a little token gift. I also often bake bread and make a Christmas version of my bread to take to my friend's festive dinner. It's always a crowd-pleaser, partly because it tastes so good, but also because people know that I've taken the time to bake it in such a busy holiday time.
Ideas for homemade gifts
shop online
Online shopping when you are on a tight budget can be very helpful. It's very quick and easy to compare prices once you've decided on an item, to make sure you are getting the best price possible for that item. You can search for coupons, discount codes, free shipping codes, and use cash back rebate sites to get the most for your money.
Practical Frugality Gift Guides
Save money on postage by sending gifts directly
If sending gifts via the mail, order online and have the item sent directly to the recipient so you don't pay to have it shipped to you, then you pay to ship it again to the recipient.
Once you've found a way to save money, you can make the determining factor if you'll keep those savings, perhaps putting the money into your savings account to get a head start on the next Christmas holiday season budget! Sometimes I'll also use that money to pick up additional small gifts that I know will make the recipient happy.
Stay in touch
Hope this post inspires you and of course, I'd love to know what you think! Let me know in the comments below or find me on Instagram, Facebook or Twitter and add the hashtag #practicalfrugality so that I can see your post.
Or why not subscribe to my weekly newsletter with frugal living tips and recipes straight to your mailbox.
Magdalena