In my recent Facebook post, I was asking what you would like to read more of. Several of you asked about meal planning tips, so here are 10 Meal Planning and Grocery Shopping Tips that I hope will be of help to you!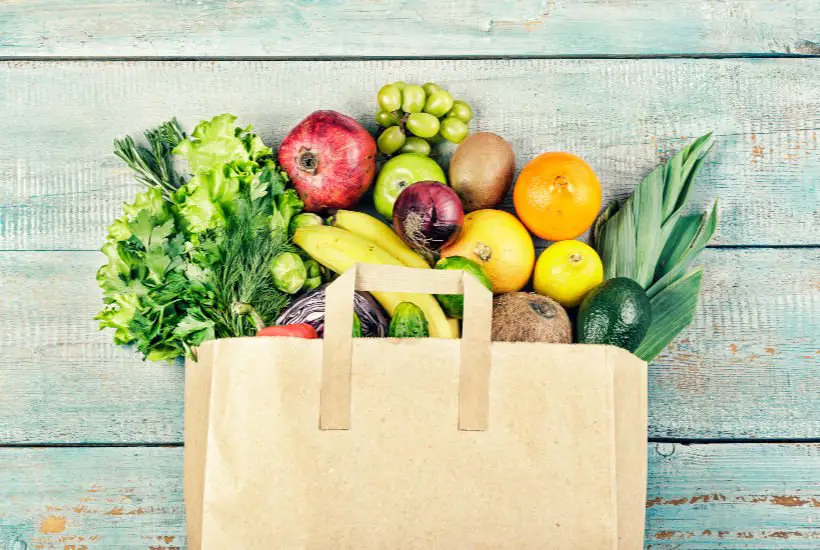 I. keep a calendar just for meal planning
This might sound like an over the top suggestion, but if you want to be organised, start with a diary! You can keep traditional paper diary, or electronic version such as Google Calendar, which is completely free and you can share it with your family members.
The benefit of using something like a Google calendar is that you can keep a 'living food planning document' with a list of all the recipes you've made before with links to them online. It's also a good idea to divide the document with tabs for Breakfast, Snacks, Dinner, Desserts, Side Dishes etc.
You can also have one tab for recipes you'd like to try so if you see something online (for example on Pinterest), you can cut and paste the link in your document.
When you are ready to plan your meals, choose your favourite recipes for the week and alternate it to make sure each week's meals are a bit different.
One of my favourite tips is to plan for dinner only. Breakfast is always easily organised and if you want to you could eat dinner leftovers for lunch the next day with perhaps a different side dish. This way, it's easier to plan your meals for up to a month at a time, making sure that you have plenty of variety in your diet.
You can also set your favourites to repeat every 10-12 weeks on your Google Calendar, and adjust as needed.
2. If you cook with meat, alternate it
Try to alternate what types of meats you are cooking depending on how you prepare it. For example, if you are using a slow cooker, cook enough meat for 2 dinners. This means you will have the same type of meat for two dinners, but you can make a different side dish to turn it to a completely different meal.
This is a great way to cut down on preparation and cooking time, but it also saves money (as whole chicken is cheaper than individual chicken drumsticks or pieces), energy (you will be heating up the oven or slow cooker only once) and time (you'll be only preparing the side dish, vegetables or a sauce the second day, but the meat will be already done.
3. Shop from your pantry first
As you are planning your meals, you need to "shop" from your pantry, storage cupboards and freezer first. This means that you go over your shopping list and you cross off everything you already have. The amount of time I bought an item several times over, because I couldn't remember if I had it already at home or not!
You can also check, if you have something that's similar on your shopping list that could replace it and save you money. For example, if the recipe calls for red pepper and you already have a green pepper it's no brainer that you can use it in your dish and save yourself the money and prevent your vegetables going off.
You can also double check, if there isn't something in your cupboard that would make up a meal, without buying more ingredients.
I also like to rotate things to keep an eye on the best before date, so it's all fresh and we don't waste anything.
Once I've 'shopped' my cupboards and freezer, I write my shopping list for my weekly dinner recipes. I also note down anything we are low on, like rice or pasta and I buy it if I see it on sale or bulk offer.
4. Reduce the amount of time you go shopping – once a month for food staples and once a week for perishable items
I try to make my "big" trip for long shelf food ingredients and other food staples once per month, and any perishable food I'll buy weekly. To support local food businesses, we try to pick up vegetables, fruit and other fresh produce from a local farmer's market.
5. Learn your sales cycles for your supermarket
This will take time. But, once you have a standard menu rotation on your calendar, and learn your supermarket sales cycles, you can start to move things around and match them up. This will give you the most value for your money, as you can match sales and any coupons to grow your cupboard food stock.
For example, if a supermarket has a 12-week sales cycle, you can meal plan for about 12 weeks at a time. This allows you to stock up according to the sales cycle. If you know Taco Shells are on sale 10 for £8 or $10 once a quarter and £2.50 or $3.29 otherwise, it's worth to buy 12 weeks of Taco Shells when they are on sale. Just make sure you can use what you buy before it's expiration date!
6. Match your cooking to your daily activities
Using a family calendar also helps you see what activities you have coming up. If you know that you have evening activities on certain nights, you can plan ahead to have something in the slow cooker, or prepare something the weekend ahead of time, put it in the freezer, then pop it in the oven when you get home.
7. Cook double and freeze
Plan ahead to double up a couple of recipes to keep in the freezer. It's always handy to have emergency food ready in the freezer if you become ill or are busy doing something else or late getting back home from work. It saves you money and time , when you prepare the dish, but you also won't be tempted to get a take away every time you don't feel like cooking!
8. If using food discount coupons keep them in your purse
If you are using various discount coupons, keep them somewhere safe and handy, like in your purse.
You can also keep a separate purse size coupon holder, that is divided by category, like food and household products. Before you go shopping, I match up your coupons to sale items and put them in the pocket with your shopping list so you don't forget anything.
Keep all your discount coupons with you, so that when you see something in the shop, that you forgot, you can easily check if you have the corresponding discount coupon.
It saves you going home to get the coupons, driving all the way back to the store, and risk the items being gone.
9. Have a rule about reduced food items
It's worth having your family rule about reduced food items. Do you buy them, only if you need them or do you buy them because they are reduced? Buying reduced food items won't necessarily save you money if you buy stuff that it's not on your list or you don't actually like the food and your only reason for purchase it the price.
We don't have a strict rule about reduced food, but over the years this is what we've come up with:
Only buy reduced food if it's something you enjoy eating
Don't buy excessive amount of the same reduced food, because it might go off too soon and you won't be able to eat it all
Don't buy something you've not tried before unless you feel like experimenting (if it's reduced, the chances are people didn't like it and there is a good reason for it, e.g. too spicy or weird combination of flavours/textures)
If you buy reduced item, swap it with something that was on your list (and don't buy that, othewise you are just buying extra food and not saving any money)
Just because it's on sale it doesn't mean that you need to buy it!
10. Always use a shopping list
Always shop with a shopping list. Not only that you won't be swayed by special offers on things you won't need, but it's also useful to have a list if you are shopping with children. If you always shop with a list, your children will understand that if it's not on the list it won't be purchased, unless it fits the budget or there is a special reason for it.
More food tips