Rosehip chutney is a great way to use up some of the rosehips we collect each autumn. I like that the chutney flavour is sharp (similar to cranberry chutney or jelly), but sweet at the same time.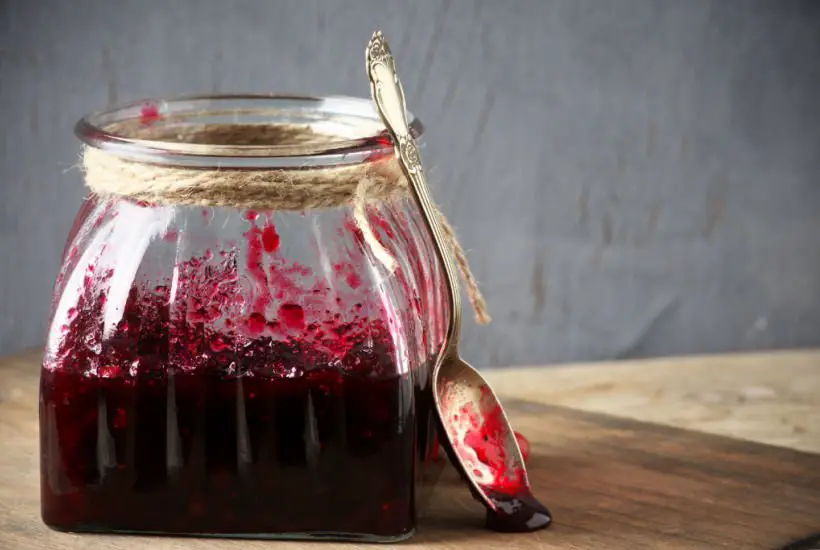 A few notes on ingredients first
Rosehips
You can use dry or fresh rosehips, but make sure that you take out the seeds and stalks before drying them. I've not found an easy way to remove the seeds, the best thing to do is just take a small sharp knife to open the rosehip and then take out the seeds with your thumb. You can wear thin catering gloves if you like, as the seeds have tiny thin spikes that can get under your nails and are not particularly easy to get rid of.
I prefer to remove the seeds before I use the rosehips, but my friend uses a different method. She puts the rosehips into the blender, boils them with water and then uses a fine sieve (with muslin cloth) to get rid of the seeds.
Apples
The original recipe has cooking apples, but I've used many times apples that I collected from the trees at the same time as my rosehips. I'm not entirely sure what type they were, but the chutney always turnout fine.
The only thing you need to bear in mind, is that cooking apples cook quicker than eating apples and have different flavour. But you can easily adjust your recipe flavour with extra lemon juice or spices.
Dried Fruit
You can control the flavour by using different apples, swapping raisins for dry prunes or other dried fruits.
I tend to use just basic vinegar, but you could use cider vinegar which has a lovely apple flavour.
Quantity & Measurements
This recipe makes quite a big batch of rosehip chutney. This is because you need to wait a few months before you can eat it, so you won't be probably making more than one batch a year.
If you prefer, you can use half the recipe ingredients to make a smaller batch. This is useful if you want to just try the recipe out or you don't have than many rosehips. Just divide everything by 2 or 3 depending on how much rosehips you have and adjust the cooking time. Everything will be ready much quicker.
Equipment
Bowls for soaking
Make sure that you use plastic or glass bowls for the first stage of making your rosehip chutney. The vinegar in the mixture can react with anything metal or iron-based, so it's not a good idea to use anything with those materials.
Jam jars
For the same reasons as above, use either glass jars with hinged lids (and rubber seals) or jam jars that you seal with cellophane or plastic lids. (or plastic-lined lids). Don't use metal jars or metal lids as these will corrode in contact with the high vinegar percentage inside the chutney.
Storage
The only drawback of making chutneys at home, is that you can't eat them straight away. The vinegar in the chutney needs to have time to do its own magic. This means that you need to leave the chutney to mature for at least 4 weeks, but you'll get the best flavour if you leave it even longer (like 3 months). If you try to eat the chutney too early, you'll be disappointed with the flavour as the vinegar will overpower all the other flavours and it won't taste very nice at all.
Keep the chutney jars in the dark, cold place (like a store room or cold kitchen cupboard) and once open use up within 4 weeks and keep in the fridge. Basically, if you make your rosehip chutney in September (when rosehips are in season), you'll have a lovely chutney ready for Christmas!
How to use
Rosehip chutney is perfect with any meat, particularly game meat or with cheddar cheese.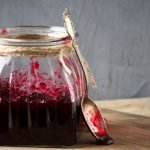 Print Recipe
Rosehip Chutney Recipe
Easy chutney recipe using foraged rosehips, apples and dried fruits.
Ingredients
500

g

fresh rosehips seeds removed

or 250g of dried rosehips

500

g

pint Vinegar

250

g

seedless raisins roughly chopped

500

g

cooking Apples peeled cored chopped

1

teaspoon

ground Ginger

1/2

teaspoon

ground Pepper

1

teaspoon

ground Cloves

1

large clove garlic minced

1

red onion chopped

250

g

Brown Sugar

2

tablespoons

of Lemon Juice

2

tablespoons

Orange Juice

1

teaspoon

grated Orange rind
Instructions
Remove seeds and stalks from the rosehips.

In a large plastic (or glass) bowl, soak the rosehips, raisins and apples in vinegar. Leave for at least 8 hrs or overnight.

Next day, place the rosehips and fruit mixture with all the spices and the remaining ingredients in a large saucepan.

Bring the chutney mixture to a boil, then reduce the heat and simmer until mixture is thickened. This can take quite some time, but don't rush the process.

Stir occasionally

Prepare your jam jars by washing them and sterilising them in an oven on 100 C for about 10 minutes.

Once your chutney reaches the desired thickness, take off the heat and leave to cool down a bit.

Spoon the chutney in jam jars, seal and leave to cool down properly.
More Autumn recipe ideas
PIN THIS FOR LATER