This taco soup recipe is the perfect base for all your other taco soup recipes. It's very versatile and you can easily swap around the ingredients and make it your own.
I've used beef in this traditional taco soup recipe, but you can use chicken, turkey or game meat if you prefer. Or if you are making this soup for your vegetarian friends, leave the meat out completely!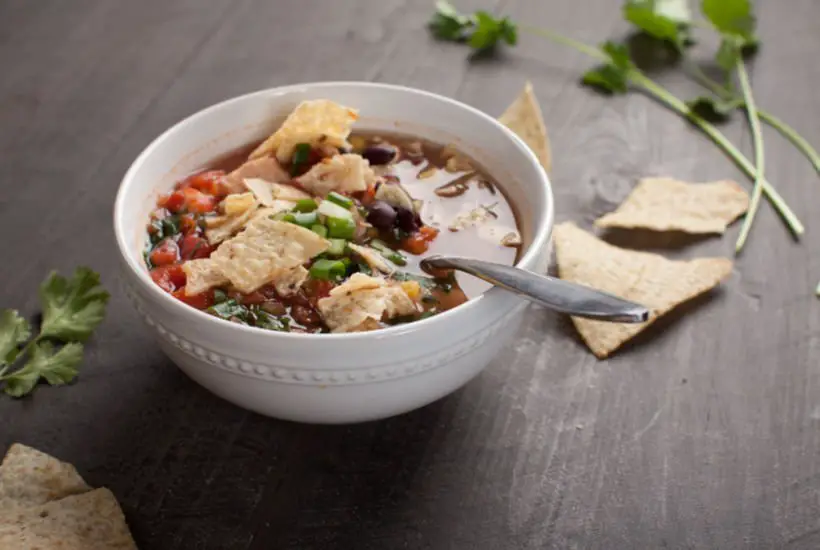 The other ingredients I often change around are the different types of beans. I use, whatever I have at the time in my kitchen cupboard or whatever is on offer in my local shop.
How to use crockpot to make taco soup
A note on the crockpot. Traditionally this recipe is made in a crockpot, which is left in a medium to low heated oven (say about 150-180C) for several hours. The soup is slowly cooked over several hours (anything up to 8 hrs).
You need to regularly check the progress of your meal and stir the pot occasionally (and to check that you've not burned your soup!)
But, these days, most families would have a separate slow cooker, which could be set up on a kitchen work counter. All you need to do is to brown your meat separately with seasoning, onion and garlic and then add all your ingredients in the slow cooker. Switch it on and you are done!
What to use instead of crockpot
If you haven't got either of these – crockpot or slow cooker, you can still make this soup on a hob in a large saucepan. The only thing you need to be careful about is to make sure that the soup doesn't burn or boils over.
Keep the heat on very low and check and stir fairly often. If you are using the hob, your soup will be ready a lot quicker than in crockpot or slow cooker, often within 1-2 hrs.
Hope you enjoy cooking this one!
Magdalena
Other easy recipes you might like to try
PIN THIS FOR LATER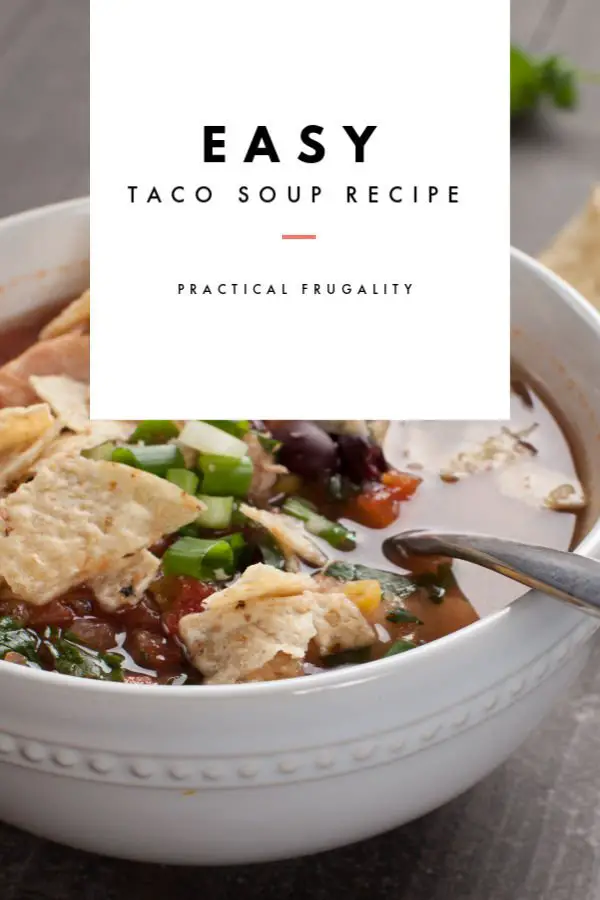 Print Recipe
Easy Taco Soup Recipe
Easy to make and delicious to eat – a soup with a Mexican flair!
Ingredients
1

pound

ground beef (minced beef) or normal beef cut thinly

1

onion – chopped

1

can

chilli, black or kidney beans, with liquid included

1

can

corn with liquid

1

can

tomato sauce or tomato soup

2

cups

water

2

cans

tomatoes

1

can

green chilli peppers (or mild chilli peppers)

1

packet

taco seasoning mix

1-2

cloves

garlic

1

brown sugar

2

cubes

beef seasoning – broth (oxo cube or similar)

1

mild or strong chilli powder (depending on your taste)
Instructions
Brown the beef on a medium heat frying pan together with chopped onion and chopped garlic cloves. Ad 1/2 pack of the taco seasoning and mix in carefully to flavour the meat.

Add all ingredients in slow cooker and carefully mix.

Set on low setting for 8 hrs or medium setting for 4 hrs (depending on your time schedule).

If cooking in a crockpot or using a large pan on cooker, check the progress occasionally and stir as and when needed.

Pour into individual bowls and serve topped up with tortila chips, cheese, sour cream, onions, and rustic bread on the side.