Delicious plum and ginger jam recipe, that's so easy to make, that you'll wonder why you've never tried it before!
The traditional plum jam recipe is a great base for differently flavoured plum jams. This is one is perfect for cold autumn mornings as the warmness of the ginger makes the jam so delicious! Plus, plum jam could be sometimes a little bland, so adding ginger and lemon helps to add a fabulous flavour.
You can use fresh ginger or ground ginger in this recipe, but if I can I use fresh ginger, as it's much more zingy and ehm…fresh!
The amount of ginger you use it's entirely up to you. If you prefer a milder taste use a little less and taste it first before you add the whole amount.
The ground ginger is easy enough to use (just add it in), but if you are using fresh ginger, make sure you first cut off the skin and then grate it on a very fine grater (or stick it into a food processor). You don't want to have any big pieces of ginger in your plum jam.
If you have any leftover ginger you can use it for making fresh ginger tea which is great for calming upset stomach and can help with easing stomach cramps for example if you are not well after eating too much popcorn.
You can also choose to do a lot of the preparation in advance and leave the whole mixture overnight but you don't have to.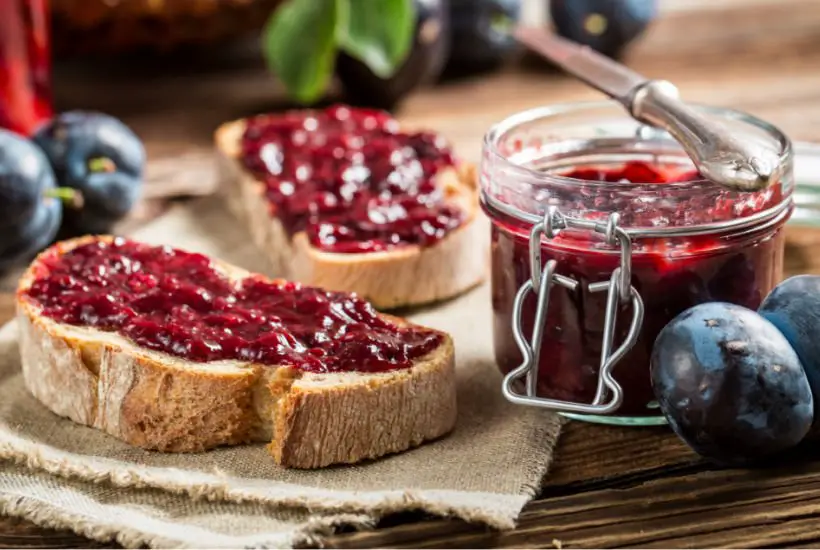 I've made this recipe several times and I always seems to follow a different timing, but it all works in the end!
What kind of plums are suitable for this jam recipe?
This plum & ginger jam recipe can be made with any kind of plums. The the final flavour will depends on the type of plums you use. If I had a choice, I would always use plums from local farm, or foraged plums from the countryside, because these will have more flavour (and sugar) as they are allowed to ripen on the tree.
If you buy supermarket plums, taste them first. If they taste bland and kind of watery, you'll have a trouble turning that into something flavoursome, no matter how much ginger, sugar or lemon you add.
few extra tips for making this recipe
If you find that my batch size made from 1 kg of fruit is too big, jut half it and make it from 500 g of fruit. The rest of the ingredients need to be halved too. The cooking time needs to be reduced by about 1/3 of it's time.
If you can use a fresh juice of lemon as it will give you more authentic flavour. But if you are out of lemons and only have a concentrated lemon juice, use that instead. The only thing you need to bear in mind, is that you'll need to use about 1/2 of the quantity otherwise the jam might be too lemony.
I tend to use white sugar for my jam making, but you can also mix in brown or light brown sugar in, if you like. This will affect the flavour, but if you are thinking of turning this recipe into a seasonal treat (say with seedless raisins soaked in rum), something like about 1/3 of dark sugar would work really well. It will deepen the flavour and make the jam darker in colour.
If you've never made a plum jam (or any jam…) before, I have a few handy jam-making tips included in my other jam recipes.
Hope you enjoy making this one!
Magdalena
other recipes to inspire you
Print Recipe
Plum & Ginger Jam Recipe
Delicious version of plum jam recipe spiced up with ginger and lemon.
Equipment
preserving pan or large saucepan

jam thermometer (optional)
Ingredients
1

kg

plums

1

kg

sugar

white or jam making sugar

1

medium size

fresh ginger

or 4 teaspoons of ground ginger (dry version)

1

lemon
Instructions
Cut all of the plums into halves and remove the stones. Add everything to a large saucepan and mix in the white sugar. Cover with a lid and leave for few hours (or overnight, if you like)

Add the ginger and juice from one lemon.

Place the saucepan on a low to medium heat and gently stir the jam until the sugar has dissolved completely.

Once the sugar has dissolved, raise the heat slightly and bring the jam to a boil for around ten minutes, or until the jam starts to get thicker.

Take the saucepan off the heat and test the jam to see if reached its setting point.
The way to do this is to put a small teaspoon of the jam on a cold plate and if in about five minutes the jam firms up, its ready to be potted.

If the testing jam hasn't firmed up in 5 minutes on the plate, put the whole saucepan back onto the medium heat and continue boiling for another 5 minutes. Repeat the test and pot up when ready.
PIN THIS FOR LATER