When I was growing up, my grandmother had a wonderful garden, which included lots of different flowers neatly planted in rows. As kids we were not really allowed into that part of the garden, I suppose because our grandmother was worried that we would damage the beautiful flowers which she often used to make flower displays.
She would disappear into the garden and when she came back she would have the most amazing flower combinations of tall flox flowers, fragrant roses and other colourful plants.
I remember once I asked what was the name of the particularly fragrant flower and I was told it was lavender. The smell was so divine and you could smell it around the whole farmhouse.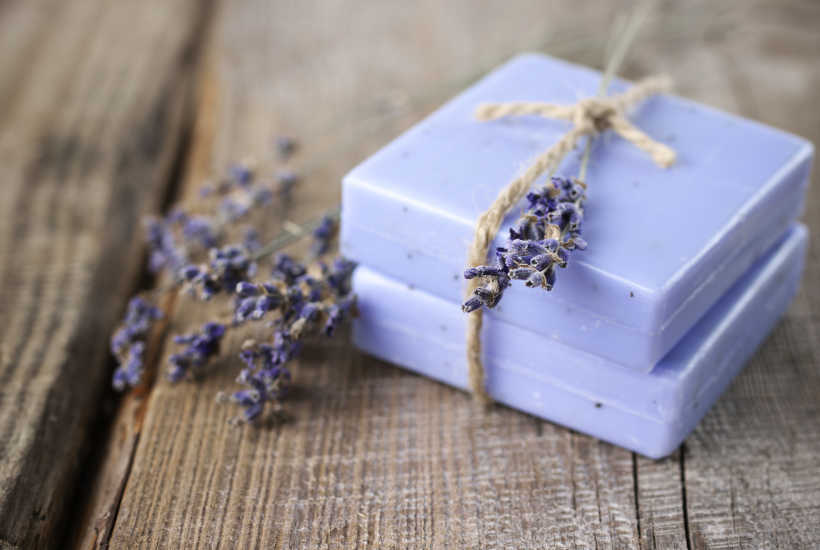 I was remembering my grandmother recently and thought about recreating that lovely lavender scent in handmade soap.
I found several recipes online, but none seemed like what I was really looking for, so I tried a few different combinations of recipes: some ideas from my other handmade soaps, using some of the supplies I had on hand, and came up with this lavender soap recipe. It works great for me, so I hope you enjoy it as much as I do!
This lavender soap recipe is quick and simple to make, and smells divine! This is also a great homemade gift idea for your friends and family.
This DIY Handmade Lavender Soap Recipe is pretty quick and easy, great for beginner soap makers like me! It would make a great homemade gift idea for a birthday, shower gift, Christmas gift, etc. or also be fun to do as a craft night with some friends!
I've used melt and pour soap base, which as the name suggest just involves melting, mixing and pouring into mould. But there are still few things that can go wrong, so make sure that you follow my recipes – especially for the melting part.
The amount of raw ingredients you need will vary depending on the size of your mould. These measurements are what I used with the long soap mould I have already at home, but you don't have to use all of the mould cavities if you want to make smaller batches.
DIY Handmade Lavender Soap Ingredients
Don't be intimidated by the quantity of product, it's just a few ingredients that are pretty versatile and can be used for many other projects.
I use the essential oil for many things, including diffusing it, and the dried lavender buds are also great for homemade potpourri!
What I love most about making my own soaps is that I can control the ingredients and the quantity I make in each batch.
I try to make really small batches when I'm experimenting with ingredients so I'm not wasting them. Feel free to adjust, add, or subtract items that don't work for you.
---
 To make one bar of Homemade Lavender Soap, I used
How to work out the quantities for your soap base
To determine how much melt-and-pour soap base you will need, the easiest method is to weigh out how much water fills your chosen mould to the desired height you would like your soap to be.
My mould holds 100g of water per rectangle (3.5 oz). I have a food scale that I use to weigh it out. Once you've done it a time or two, you can probably eye it pretty close.
Cut off your required amount of soap from the block and chop it into small pieces so it will melt evenly. Meanwhile, grind some lavender for mixing into the soap.
I've included the lavender soap recipe for a small number of mini soaps for 100 g, so that you can easily multiply the quantities and make large amounts.
Lavender soap quantities
100 g soap base
1/2-1 tablespoon lavender buds
1 tiny drop of purple colour
2 drops of lavender essence
300 g soap base
2 tablespoon lavender buds
1 drop of purple colour
6 drops of lavender essence
500 g soap base (1lb)
3 tablespoon lavender buds
1-2 drops of purple colour
10 drops of lavender essence
---
Preparing the lavender
Grinding the lavender buds releases the essential oils so it becomes more fragrant, and has additional exfoliating properties. Grind them using a mortar and pestle until they have broken down into pieces, it smells so good!
the soap making process
STEP 1
Measure out your soap base and put it in a microwave safe jug or bowl.
STEP 2
Next job is to melt the soap base. This needs to be done very slowly. Some packages have instructions, some don't.
In case your package doesn't have instructions, here is what I normally do. I melt mine putting it in a microwave-safe bowl, covering it, and running it in 20-30 second intervals if I'm melting a large (500g) piece of melt and pour soap base.
For the lavender recipe I've included only small amounts, so you need to be very careful how you melt it. I only place the melt and pour soap base in for 10 seconds at a time.
STEP 3
Next, I add my lavender essential oil, purple soap colour and ground lavender buds stirring well. When it's all combined, just pour into your soap mould.
STEP 4
Finally, you simply allow the soap to harden and set, then remove from the mould.
STEP 5
You can wrap the soap in pretty paper if you're gifting it, or I store mine in a soap container in my bathroom.
---
ingredients and tools I used to make this lavender soap
Posts may contain affiliate links. If you purchase a product through an affiliate link, your costs will be the same but Practical Frugality will receive a small commission. This helps cover some of the costs of running this website. We appreciate your support!
other soap recipes you might like to try
---
Extra tips for making your homemade lavender soap
Is this recipe suitable to make with children?
Yes, absolutely! The melt and pour soap base is very safe to handle and it doesn't include any harmful ingredients. You will need to supervise your children and help them to use the microwave.
The soap colours and essential oils are not toxic or harmful, but they are concentrated and you only need a very small amount, so again supervision is needed.
What type of soap base can I use ?
You can use any melt and pour bases, but they will change the properties of your soap. I think that this the best part of soap making – you can be really creative here.
The goat's milk soap base is very creamy and calming for skin, shea butter is perfect for dry skin as it's very nourishing and glycerin soap bases are 'see-through' which will beautifully show off the lavender buds.
Do I need to use microwave to melt the soap base?
No, not at all! You can use a 'double-boiler' to melt the soap base. Double boiler – a bowl with the soap base set over a sauce pan with a low level of simmering water – is a good alternative to microwave and it's gentle and slow enough to melt the soap base safely.
Can I use fresh lavender for my soap making?
I wouldn't advise to do this, as this would introduce extra moisture into the soap and your soap could end up mouldy. Dried lavender is much stronger in essence and it takes next to no time to dry it yourself.
You can use any kind of lavender for this project, but I wouldn't use culinary lavender as it would be a bit of a waste (culinary lavender is more expensive and since we are not going to eat our soap, it's perfectly fine to use lavender from your garden or shop bought)
To dry your lavender quickly, pick a few stems and take the lavender buds off. Place them on a clean kitchen paper towel and leave to dry naturally away from the sun or direct sunlight.
Do I have to use lavender buds in this soap?
No, not at all. The lavender buds provide extra fragrance and they also gently exfoliate your skin as you wash, but if you don't have any lavender buds, don't worry, you can still make this soap with lavender fragrance and purple soap colouring.
Is lavender soap good for skin?
Yes, absolutely! Not only that lavender smells so good, but it also has a natural antibacterial properties. The dried lavender buds will gently exfoliate your skin and help to heal irritated skin. Lavender is also very soothing, so having a bath or a shower after a long day will help you to sleep better.
Does lavender soap help you sleep ?
Yes, lavender can help to get you off to sleep. You can take a shower or batch and use your lavender soap or lavender bath bombs. If you don't want to have a bath before bed, you can also place your homemade lavender soap under your pillow.
---
Stay in touch
Hope this post inspires you to make your own lavender soap and if you do, I'd love to what you think! Let me know in the comments below or find me on Instagram, Facebook or Twitter and add the hashtag #practicalfrugality so that I can see your post.
Or why not subscribe to my weekly newsletter with frugal living tips and recipes straight to your mailbox.
Magdalena
PIN THIS FOR LATER
Print
Homemade Lavender Soap
Fragrant lavender soap made with melt and pour shea butter soap base, dried lavender buds and lavender essence
Equipment
Silicone Soap Mould (with 6 or more cavities)

Measuring jug suitable for microwave use

Pester & Mortar (to crush the lavender buds – optional)
Materials & Ingredients
3.5

oz

melt-and-pour soap base

with shea butter (this is about 100 g)

1

tablespoon

of lavender buds

2-3

drops of lavender essential oil

depending on how strong you want the scent to be

1

drop of purple soap colour
Instructions
Weigh the melt and pour soap base and put into a measuring jug.

Melt very slowly in microwave for 10-20 seconds at a time.

Add a drop of purple soap colouring

Add lavender essential oil and ground lavender buds stirring well.

When it's all combined, just pour into your soap mould.

Finally, you simply allow the soap to harden and set for about 60 minutes, then remove from the mould.
Notes
Grinding the buds releases the essential oils so it becomes more fragrant, and has additional exfoliating properties. Grind them using a mortar and pestle until they have broken down into pieces, it smells so good!