What is soapwort?
Soapwort (Saponaria officinalis) is quite a magical plant, which was often used to treat skin diseases in traditional medicine. The Latin name 'Saponaria' comes from a toxic substance, called saponin, which can be found in the plant. The main concentration is in the roots, but if eaten, the whole plant can cause mild to moderate discomfort (digestive problems, skin irritation). The best time to collect soapwort root is when the plant flowers, because that's when the saponin concentration is the highest.
The plant's leaves (and stalks) also contain saponin and were used in the medieval times to clean skin as they form a mild soap when mixed with water. Traditionally, soapwort was used to make natural soap and to wash clothes. Because soapwort soap is much milder than more commonly used soaps made with lye, the soap can be used for washing lace, old fabric or linen.
It's also perfect as a gentle hair shampoo and liquid hand wash.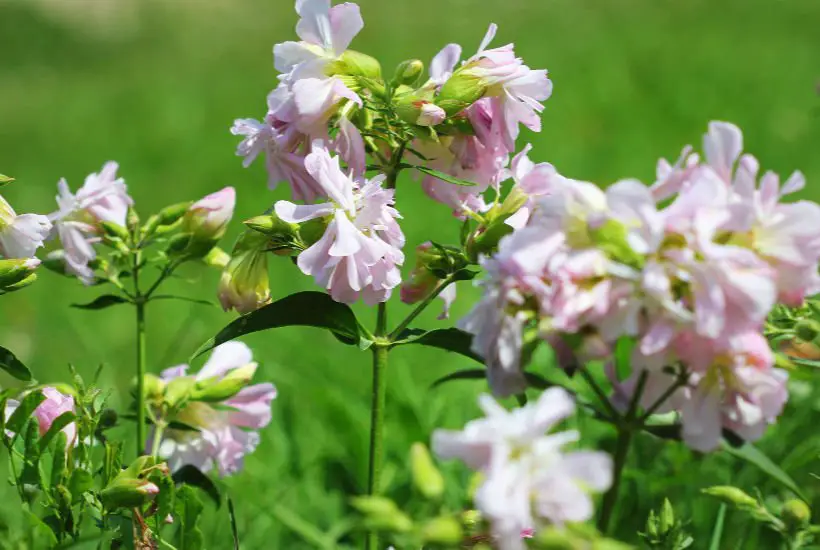 Can you eat soapwort ?
I love my foraging finds, but even I'm not tempted to eat soapwort! It's generally not recommended to eat the plant, in fact, if you do, you could give yourself some serious indigestion problems and vomiting. This is only if you consume the plant in large quantities, but still, it's best to stay clear of eating soapwort!
Foraging for soapwort
Soapwort grows next to roads, close to meadows, hedges or beginnings of forests. You can also find it in your own garden or local park as it's rather invasive.
Harvest time
Pick the flowers, leaves, stems and roots during spring and summer and if you like dry the roots and leaves to use in winter.
The Shampoo & Soap Recipes Making Method & Ingredients
Soapwort
Soapwort root can help to calm scalp itching and other minor skin conditions. This shampoo is completely natural and doesn't have as much lather as shop-bought shampoo, but I take it as a good thing!
Although the soap is fairly mild, it has the ability to dissolve fat and grease, which makes it perfect for shampoo or liquid hand wash.
Depending on the time of the year, you might like to use fresh leaves of soapwort or in the winter use the try root or leaves, that you collect and dry in the summer.
Dosage
You will need approximately 3 tablespoons of fresh leaves or 1 tablespoon of dry soapwort.
The process is the same, but if you have a fresh soapwort boil the mixture for about 15 minutes not 20 minutes.
The quantity in my recipes is enough to shampoo your hair about 6 times (depending on how long your hair is).
Since this is a natural product made without any preservatives, it doesn't last very long. It's best to keep the shampoo or liquid soap in a cool dark place (even in the fridge) or use it within 10 days.
Making the liquid soap
Making the liquid soap or shampoo is fairly similar and you can always add more water to dilute the soap or shampoo to use.
Soapwort liquid soap is usually less concentrated than the shampoo, because I like to use it for hand washing my clothes as well as instead of actual hand wash soap.
Water
Ideally, you want to use water that's free of chemicals and minerals, something like a distilled water. If you don't have distilled water, use filtered water or boil water first in a kettle, let to cool down and then add to the soapwort leaves or roots.
Herbs & plants to use with soapwort
Pretty much anything can be added to the soapwort soap base to make it fragrant. You can leave the soapwort on it's own, it has a faint herby smell, but it's not very strong or exiting as a fragrance.
You can use essential oils specially designed for domestic use in cosmetics or use fresh flowers or herbs.
The amount added depends on how strong you'd like your essence to be, but don't over do it. You want to make sure that your shampoo or soap is as natural and as gentle as possible.
Rose petals
Lemon
Lavender
Rosemary
Lemon Verbena
Soapwort Liquid Soap Recipe
1 cups of fresh soapwort leaves and stems (or 1/3 cup of dried leaves or stems – all packed tightly)
500 ml of water
In a medium size saucepan boil the water
Add the soapwort and boil for 15 – 20 minutes
Strain through a fine mesh sieve or use a cheesecloth
Add any essential oils of your choice
Pour in to a liquid soap dispenser.
Soapwort Shampoo Recipe
2 cups of water
1 1/2 tablespoons dried soapwort root (chopped)
few leaves of Lemon Verbena, Lavender or Rosemary
In a medium sized sauce pan, bring water to a boil.
Add the soapwort root.
Cover with a lid and simmer for about 20 minutes. Remove from heat
Add your fresh herbs and allow the soap mixture to cool for at least 20 minutes.
Pour the soap mixture through a strainer.
Pour into a suitable shampoo bottle.
Calming Soapwort Shampoo Recipe
1 1/2 Tablespoon Soapwort Root
2 Tablespoon Dried Chamomile Flowers
2 Cups of water
5 drops Rosemary Essential Oil
In a medium size saucepan, bring water to a boil.
Add soapwort root and chamomile flowers.
Cover and simmer for about 20 minutes.
Remove from heat.
Allow to cool.
Strain the soap mixture through a fine sieve.
Add few drops of rosemary oil.
Pour into a suitable shampoo bottle.
More homemade cosmetics recipes to try
PIN THIS FOR LATER