Guest post by Karen P.
When I shared the Smurf Paper Plate Craft a friend of mine called me to get ideas for throwing her daughter a Smurfs Birthday Party. Like most young kids, they love a theme, and current popular movies are often what they request. Many of you shared that you and your kids are big Smurf fans too, so I thought I'd share the ideas I rounded up here, and maybe they'll help someone else plan a fun Smurf Birthday Party with these Smurf Party Supplies!
Smurf Party Invitations/Thank You Cards
I've noticed that we're receiving more party invitations via Social Media and Event Invites online. Those are great for communicating details, especially any last minute RSVP changes, but sometimes the kids want to invite new friends from school, and maybe you haven't connected with the parents just yet. Allowing them to pass out physical invitations and including your social media info (and phone number, email) is a great way to connect. You can never be too careful where kids are concerned, so it's nice to connect with people via social media to get to know them better and feel comfortable allowing your children to visit their homes. I am also a BIG fan of hand-written thank-you notes from kids. They can be simple, and basic, but it teaches them to show appreciation of what they receive.
Smurf Party Game & Banners
The themed party games & banners are usually able to be reused (not always), or you can hang the banner in your child's room after the party so they can remember how much fun they had.
Smurf Party Tablecloth & Decor

Some of the party tablecloths hold up better than others, and I prefer to get the plastic/vinyl kind for my kids. They're easy to wipe clean after use and they can be reused for craft time or playdough time to protect the table! When they're on their last leg, it's fun to let the kids take them outside (weather permitting) and spread out to have a picnic on, then you can just toss or recycle when you're finished – no blanket to wash!
Smurf Party Plates/Cups/Napkins
My teenagers won't be thrilled that I'm sharing this, but they STILL have some of the plastic souvenir cups from their themed childhood parties that they use on a daily basis. They were pretty inexpensive to buy for the parties we had, the plastic a bit more than the paper kind, but the brand we bought were top rack dishwasher safe and they've held up to daily use for many years. Even though we have "real" glassware in the cabinets, they still prefer to grab their superhero cups 🙂 I usually bought one pack of "themed" plates for the kids to use and generic white plates for the adults to use, to save some money.
Smurf Party Balloons
When throwing a kids party, they usually want balloons. In our area, it's so expensive to get the mylar balloons AND there are only a handful of places that will blow them up for you, then you have to wrangle them into the car for the ride home. I prefer to get the small helium tank kit and buy the balloons online to save some money. It's pretty easy to use, and saves time on party day too! Those party supply stores are usually VERY busy on Saturday afternoons, before most kids have their parties!
Smurf Party Cake Topper
Many years ago, one of my kids wanted a themed cake and we visited several bakeries flipping through the photo books to find one that appealed to him. The other issue we had was that he didn't like the bakery cake flavors that were available. He wanted me to buy the cake, take the decorations off, bake him a homemade cake, and put the decorations on that. I talked to the baker, and she agreed to sell me the cake toppers for just $10 (the cost of a cake at this particular bakery – the ONLY one with the themed topper he wanted – was $40, so it was a huge savings to get just the topper and bake a cake at home). Now, sometimes my kids request a pie, cookie cake, ice cream cake, etc. that you can't order with the themed toppers on them. It's SO MUCH EASIER to buy the toppers (that can be re-used) at a lower cost then make them the dessert of their choice!
Smurf Party Favors
When we are putting together party favor gift bags, I try to include a couple of themed items, and fill the rest with crayons/coloring pages (I buy extra crayon boxes for $0.25 during back to school sales and save them), and candy. It's an inexpensive way to thank the guests for coming, and have a little something to take home with them. I found several fun choices!
Smurf Costumes
Costumes are not just for Halloween! It can be so fun for the Star of the party to dress in costume, invite guests to dress up (if they want), or to have an adult friend dress up and visit the party – little kids would get a kick out of a "REAL" Smurf making an appearance 🙂 My own kids loved to dress up as their favorite movie characters year round, when they watched the movies at home or played with the toys. It's a fun way to get the imagination going!
Posts may contain affiliate links. If you purchase a product through an affiliate link, your costs will be the same but Practical Frugality will receive a small commission. This helps cover some of the costs of running this site. We appreciate your support!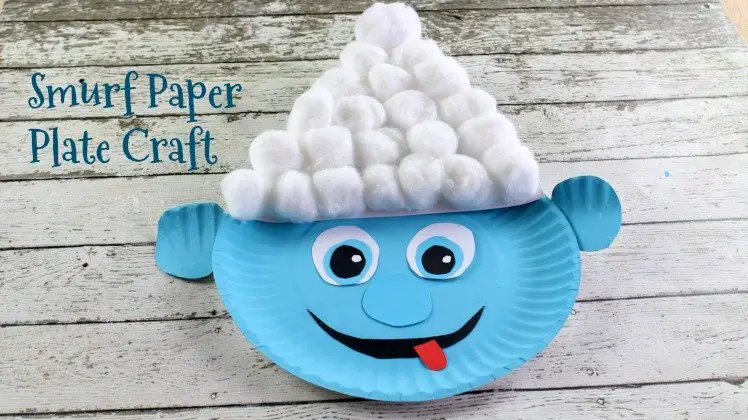 Don't forget to visit my Smurf Paper Plate Craft post, this would be a fun craft to make during the party!!!