Dandelion root coffee is a great alternative to a traditional coffee.
Unlike actual coffee, dandelion coffee doesn't contain any caffeine, which makes it a fantastic coffee alternative.
On the plus side, dandelion coffee can also help with water reduction in your body (draws water away from your skin & body), helps to cleanse liver and stimulates digestion.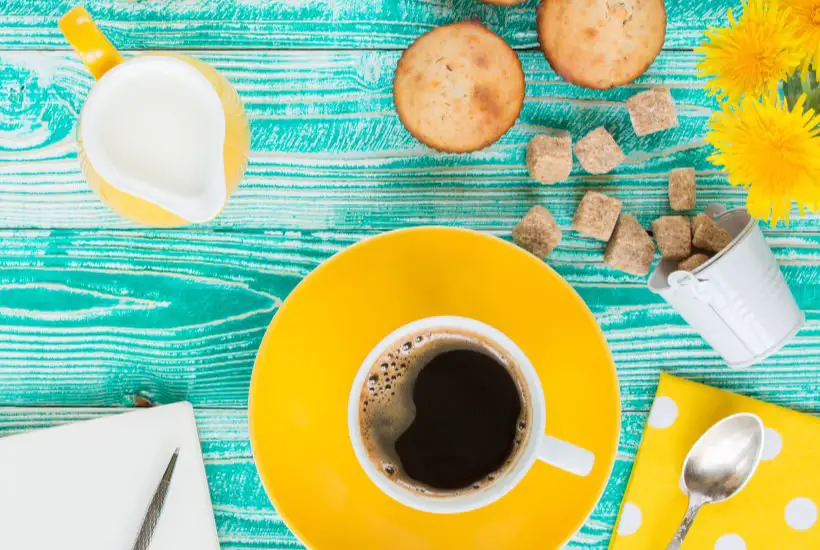 The taste is much milder than real coffee, but the final flavour depends on how strongly you roast your dandelion roots. It can be drunk with or without milk or sugar, like a normal coffee.
In totay's blog post I wanted to share with you how to make your own root coffee, but if you prefer you can also buy dandelion root in the health shops.
MY OTHER RECIPES
When to pick dandelion roots
Ideally you want to collect your dandelion roots in the winter, when the roots are strong and all the important nutrions and vitamins are in the roots.
The next best time to pick dandelion roots is in early spring before new leaves and flowers start to grow. At that point, the roots have all the nutrition stored for the new plant and by the time the new leaves and flowers grow the root becomes less nourishing.
You should choose older plants (just go for the large clusters), as they are about a year old and well matured. Younger dandelion plants are a little bit more bitter, but you can still use them if you can't find anything else.
How to forage for dandelion roots
Like with the dandelion leaves and flowers, make sure that you dug up a plants that are healthy, away from main traffic and not sprayed with any chemicals. Although we will be using the roots and there is a less chance of contamination, you never know! So don't take the chances.
If you can't find any dandelions in the wild, you can always have a look in your own garden or as a neighborough, who will be only too happy you want to dig up his weeds!
It's best to pick the roots in the morning after a good night of rain. The soil will be much easier to dig than if it was dry.
To make sure you get the root of the plant, use something long, like a knife, weeding garden tool or small trowel to slide next to the plant and then take out as long piece as you can. It's practically impossible to just pull the dandelion roots by it's leaves, unlike other plants, these roots are very strong!
How to prepare your dandelion roots
Once you have collected enough roots, cut the leaves and flowers (if any) off (use them for a quick salad, make a dandelion flowers honey, delicate dandelion vinegar or even compost them), scrub them and wash them and then leave them to dry somewhere warm, but not on direct heat. Something like a radiator or an airing cupboard is perfect.
After a few days, when the roots are completely dry, cut the dried roots into about 1 cm pieces. If you have very chunky roots, cut them up into even smaller pieces.
The smaller pieces you have the quicker the drying will be and the easier it will be to roast your roots in the next step. If you prefer to speed things up a bit you can always use a food dehydrator or oven on a very low setting (50 – 100C or 150-200F).
The dandelion roots are dry, when they are completely hard and pretty much look like small twigs.
The next job is to roast them, by placing them on a clean baking tray and putting them in a medium heat oven (about 100- 120C). Keep an eye on them and make sure to turn them once in a while to get an even roast. Depending on how brown you want your roots to be, this can take up to 15-20 minutes.
If you prefer your coffee with deeper flavour, keep going until the colour is dark brown. Don't burn them, though, because your coffee wouldn't taste very nice.
Once your dandelion roots are the right colour, leave them to cool down.
Keep in a sealed jam jar and only grind what you are going to use to prevent the roots being spoiled.
How to make your dandelion coffee
To make your coffee, grind the roasted dandelion roots are you would normal coffee and use the same quantity as you would normally use to make your coffee.
You can always adjust the strength by grinding more coffee or leaving it to infuse for longer using hotter water.
I like my coffee very week, so I usually put one tablespoon of my dandelion coffee to tea strainer (which I only use for a coffee) and place it a large mug and then pour hot water over it. Leave it for about 10 minutes and then add a little bit of dairy-free milk.
I also like to drink this coffee without any milk and I don't use sugar, but I've been told it tastes good with a little sugar or honey too.