There are plenty of things you can do with elderflowers, but making elderflower cordial is one of my favourite uses for these amazing flowers. You can use the cordial for making drinks, drizzling over puddings, making icecream or even adding to baking recipes as a flavouring. Making your own cordial is not only very easy, but you also save some money in the process as shop-bought cordial can be quite pricey.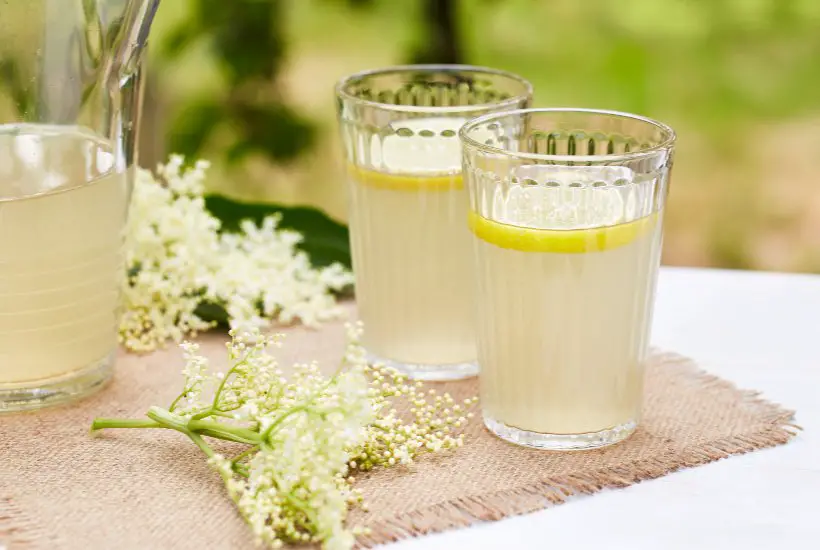 The first step is to find some elderflowers. They are in a season from mid May to the beginning of June and you need to make sure you pick them when they are in full bloom, but before they go brown.
Choose a hedge that's away from the road or busy walkaway and collect your flowers early in the morning if you can. But even if you go for an evening walk and you pick your elderflowers then, just use them as they are.
Make sure you pick the largest heads, you'll need about 10-15, but pick a few more and you'll have a spare if some are not as clean as you thought they might be. Bear in mind that the more elderflowers you add, the stronger the flavour, but there is no right or wrong with this recipe.
Ideally use your elderflowers straightaway to prevent them drying out and going brown.
This year, I've made my elderflower cordial without citric acid, but if you want to add some, I've also included brief notes after the recipe to help you to make a few different variations of this recipe, including sugar free version.
I'm always looking forward making my elderflower cordial so I hope you'll join me this year and have a great fun making this delicious recipe!
Magdalena
Troubleshooting the elderflower cordial
How long does the elderflower cordial last?
This depends on how you've made it and how well you've managed to preserve it. It's important that you use a sterilised glass bottles and seal the bottles (or close) straightaway.
Once open your cordial should be fine for at least 2 weeks, but keep it in the fridge, just in case.
Cordial made without citric or tartaric acid will last around 4 weeks
Cordial made with citric or tartaric acid should be fine for about 4 months.
How do you dilute elderflower cordial
There is no right or wrong with this, it simply depends on how sweet you like your drink. We use tap water, but you can try sparkling water for extra bubbly effect.
Depending on how you've made your cordial, you might like to add extra lemon in.
Elderflower cordial is also perfect with tonic water.
Why do you use citric acid in elderflower cordial?
You'll notice that I've not used citric acid in my recipe and that's simply because I know that that's not an ingredient you might have readily at home. But citric acid does have quite an important role in the preserving the cordial (as it stops it from fermenting) and making it last at least 4 times longer than if you don't use it.
It also adds a lovely sharp flavour to your cordial, which is normally difficult to achieve even if you add a lot of lemons.
For my recipe I use about 2 teaspoons to get really sharp flavour or just 1 teaspoon if I don't want the cordial to be that sharp.
I would recommend to add a smaller amount of citric acid, gently stir it in and taste it. If you like the taste and flavour, leave it as it is or add extra citric acid if you want to.
You can usually buy citric acid in a health shops, specialist food shops, pharmacies or places where they sell stuff for making wine or beer. It usually comes in small container and costs no more than a few pounds (or dollars). I order mine online, because I usually get large tub as I use citric acid for my traditional sweet making recipes.
How do you sterilise bottles for elderflower cordial?
Make sure that your glass bottles are completely clean and freshly washed. Place them on a clean baking tray and put them in the oven on 180C or 350F Gas Mark 4. Take them out after about 10 minutes.
Ideally you want to time this with finishing your cordial. As you are simmering your elderflower water with sugar, put your bottles in the oven and then will be ready by the time you need them.
This way, they will be still hot and are not going to crack when you pour the boiling syrup into them.
How do you make elderflower cordial without sugar
Leave the sugar out all together or reduce it
To make your cordial sugar free, you have few options here. If you try to reduce sugar in your diet, simply half the sugar amount or omit it all together. This will of course change the flavour of the cordial, but if you balance the elderflowers with the lemon, you will still end up with a pleasant flavour.
Use sugar alternatives
Depending on what type of sugar alternative you use, you will also alternate the flavour of your cordial. This is especially true for brown or very dark sugars, which will completely overpower the elderflower flavour, but you will be fine with 'white' versions of alternative sugars.
Whilst I'm not a fan of commercially produced sugar alternatives, here are few you are welcome to use.
To adapt my recipe for alternative sugars, always read the sugar packaging for quantity to replace normal white sugar.
Brown (unrefined sugar)
Coconut sugar (a dark unrefined type of sugar)
Coconut blossom nectar (made from crystalised coconut blossom flowers, will add a slight coconut flavour to your elderflower cordial)
Honey (choose clear, light honey if you can)
Agave
Maple syrup
Golden syrup
Date paste
Fructose
Inulin
Erythritol
Stevia (naturally made from plants, is as sweet as sugar, but has no calories, is white and tasteless, which is great as it won't overpower the delicate flavour of elderflowers)
Splenda
Don't forget that even alternative and natural sugars are still sugars, so choose your sugar carefully.
Print Recipe
Elderflower Cordial
Homemade elderflower cordial taste delicious and it's very easy to make and you only need three ingredients!
Ingredients
10

elderflower heads

330

g

granulated (white) sugar

2

lemons

organic – not treated

650

ml

boiling water
Instructions
Pick 10 large elderflower heads.

Gently shake them to make sure you get any insects or bugs and leave them for an hour on a tray (if there are any more bugs, they will crawl away)

Prepare zest from the two lemons

Put the elderflowers and lemon zest into a plastic container

Cover with boiling water (I boil my water in a kettle and then place my plastic bowl directly on a scales, making sure they are set to zero and pour out the 650ml of boiling water)

Cover and leave to infuse overnight or for at least 12 hours

The next day, pour the infused elderflower water over a fine sieve (or a sieve lined with a musln cloth)

Add the elderflower water to a large saucepan with the sugar and juice from the two lemons

Heat very gently and make sure the mixture doesn't boil.

When all sugar is dissolved, bring to simmering point and continue to simmer for a few minutes.

Pour into a suitable bottle, seal and leave to cool down

Use straight away or keep for a few weeks in the fridge or somewhere cold.
more foraging recipes
PIN THIS FOR LATER