This elderflower champagne recipe is a sophisticated alternative to sparkling wine. It's made from freshly picked elderflowers, that are in flower late May and early June.
This homemade elderflower champagne is the perfect choice of drink for a summer picnic, garden party or family B&Q get together.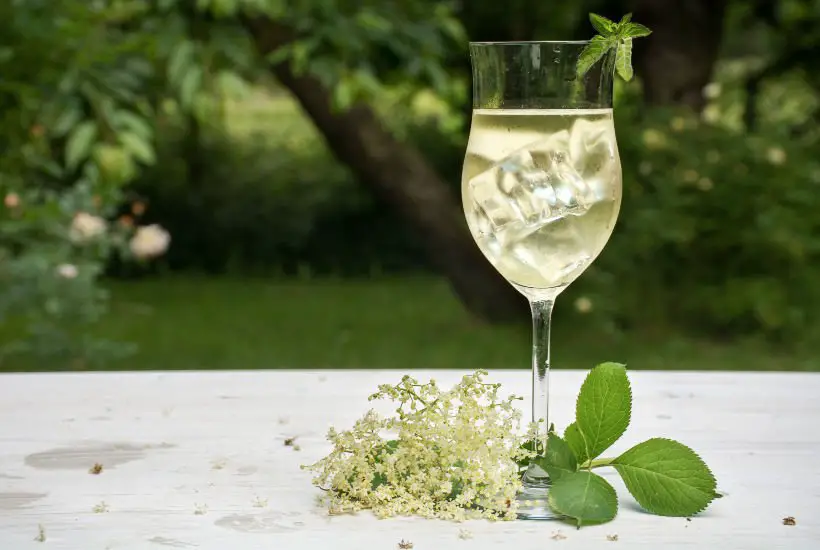 I first come across this recipe when I was making my elderflower syrup and left my elderflowers to sit in the water for a way too long. I didn't get the chance to make them into the syrup straight away and yes, you've guessed it, they started to ferment!
One important thing about this elderflower champagne recipe. I prefer to keep everything natural, so I don't tend to use commercially produced champagne yeast, but some people find it easier to use them. I prefer to wait a little longer for my elderflower champagne drink.
Once made the elderflower champagne should be lightly bubbly (depending on how much yeast you've used and how long you've left your drink to ferment) and will have a lightly fermented taste infused with elderflowers.
Don't forget that this will still make an alcoholic drink (about 1.5 – 2 %), so it's probably not suitable for children and anyone who is sensitive to alcohol.
I've included few extra pointers for making this recipe in the notes below and hope you enjoy making this one!
When to pick your elderflowers
Elderflowers are in season late May to early June. It's a fairly short season (sometimes only 2-3 weeks), so make sure you pick what you need during this time. It's best to pick your elderlfowers in the morning, when the flowers are fully open.
Don't wash your elderflowers as this would get rid of the pollen and you'd loose most of the elderflower fragrance and the natural bacteria, which creates the yeast.
How long should I ferment my elderflower champagne ?
If you follow my favourite recipe, you'll see some variations in the length of this recipe. This is because each batch of elderflowers might behave differently.
The fermentation also depends on the initial amount of the natural yeast in the flowers, how cold or warm your kitchen is, how frequently you stir the mixture and other variables.
All I'm saying, don't rush the fermentation process, keep checking your elderflowers and take your time.
How to store your elderflower champagne
Store in cold storage or a fridge. Avoid storing somewhere too warm/hot as this can cause the fermentation gases to carry on and your bottles might explode.
If stored correctly, your elderflower champagne should last several months, but I've had friends who kept theirs for up to 2 years.
What containers are best to use FOr homemade elderflower champagne?
Honestly, you are best off with a plastic container that has a lid. The size depends on how much elderflower champagne you are going to be making.
You can easily double up the recipe and just use a clean & sterilised bucket or large tub.
Don't use anything with metal in (or stainless steel) as this would react with the gas and impact on the flavour of the final drink.
You can use glass bottles, but you have to make sure that you check frequently on the fermentation process and let out some of the gas as it forms. Otherwise you might end up with a shattered glass everywhere.
Re-used large plastic drink bottles with a plastic tops are probably the easiest ones to use, but you still need to check for gas and let it out as it forms during the fermentation process.
How to change the flavour of my elderflower champagne?
Normally, my elderflower champagne has a very pleasant, but mild fizzy taste with the zing of lemons and is slightly on the sweet side. Once you master the basic recipe, you can easily change the ingredients to achieve a different flavour result.
Sugar – add more or less than in the recipe to change the sweetness of the flavour.
Vinegar – add more for stronger taste
Grape Juice – add few squashed grapes to the initial batch to help with flavour and to aid natural yeast forming.
Yeast – if you don't have champagne yeast, you can add a pinch of normal bread yeast. They ave slightly different flavour, so don't add too much. Combine it with grapes if you feel that you need to add more yeast
How to make sure that your elderflower champagne doesn't explode.
Fermenting causes gasses to expand the volume of your liquid. Whilst the fermenting process is happening, make sure that you check regularly the bottles or containers and let out the gases to prevent anything sinister from happening.
Once your elderflower champagne is ready to bottle, use strong, heavy glass bottles or plastic soft drinks bottles and leave a gap (4cm or more) between the cork or lid and the drink level.
Make sure your bottles are stored somewhere cold, ideally in the temperature under 15 C.
Print Recipe
Elderflower Champagne Recipe
Light and delicate fizzy drink made with fresh elderflowers.
Ingredients
13

elderflower heads

2

litres

water

300

g

white sugar

2

lemons (sliced)

including zest (use organic -non-treated lemons)

1

tablespoon

vinegar

clear vinegar or apple cider vinegar

pinch

of

champagne yeast

optional (or use normal yeast)
Instructions
Pick your elderflowers and leave them outside on a tea towel (in the shade), so that any potential bugs crawl away. Don't wash them, as this would damage the pollen and the natural yeast bacteria.

In the large plastic container dissolve sugar in the cold water. Stir until it's properly dissolved and the water looks clear.

Remove any green stems from the elderflowers and add them in the container

Add the lemon zest, vinegar and the lemon slices. Stir slowly and loosely close with a lid.

Leave to ferment in a room temperature for 48 hrs and check regularly for any signs of fermentation/yeast activity. Your elderflowers mixture should start to bubble within 48 hrs. Open the lid and stir couple of times a day to introduce more new air bacteria.

If you don't see any bubbles within 48 hrs, you can add some champagne yeast. This is optional.

Pour the elderflower liquid through a muslin cloth (or a fine strainer) to a bottle or a fresh plastic container leaving about 5-6 cm (2 inch) from the top to allow for further fermentation. Loosely cover with a lid. Discard the elderflower heads.

Leave to ferment for another 3-4 days before bottling the elderflower champagne to smaller glass bottles leaving at least 3 cm gap from the lid/bottle stopper. Check every day to let any gas pressure out.

Leave for further 5-7 days to develop in the cold environment (or longer), before chilling in the fridge and enjoying your elderflower champagne with your summer picnic or garden party.