This dandelion honey recipe really takes me back. I remember collecting dandelion flowers in my great grandmother's farm orchard and helping my mum to make dandelion honey.
As a little girl, I never quite understood, how you actually get honey from the flower petals, it was quite magical!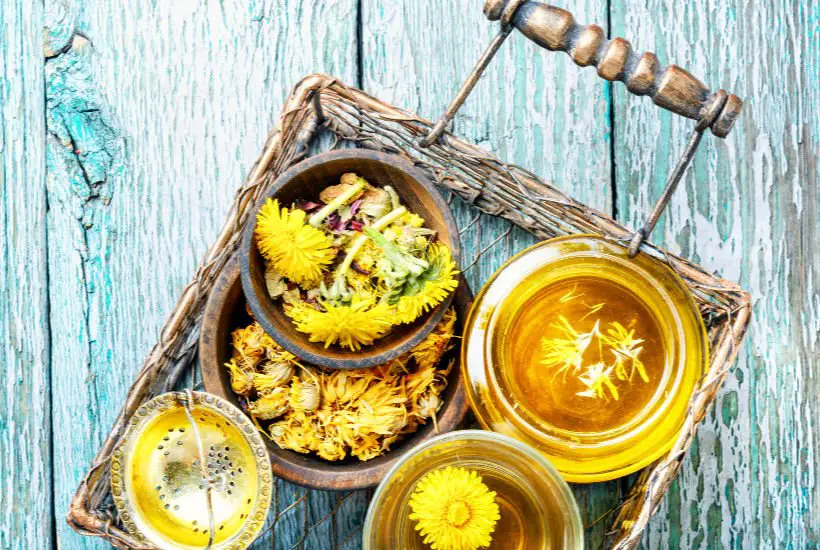 This recipe is not only a great budget way to make your own honey (unless you actually keep bees!), but it's also perfect alternative to traditional honey for anyone on a vegan diet!
The dandelion honey taste is surprisingly like a 'normal' honey, but with a flower fragrance.
How to use dandelion honey
There are many uses for dandelion honey and in short, you use it as you would any other type of honey. It's great on a toast or fresh bread, drizzled over breakfast porridge or yoghurt and it can be added as a sweetener to any hot drinks.
Since it's natural and has a lot of extra nutrients in, it's great for adding to herbal teas and teas made from fresh ginger (which are by the way great for calming down your upset stomach after you've eaten way too much oily popcorn).
How to pick dandelion flowers
To make natural dandelion honey, that's also healthy, you need to make sure that you dandelion flowers are safe to eat.
You need to make sure that you keep all the pollen inside the flowers, so you can't wash them! Which of course means that they need to be collected from a safe place.
Collect your dandelion flowers safely from
Middle of a large dandelion flowers patch (and not by the side of the main road)
Avoid known dog walking paths and areas
Check that the field (or near fields) have not been sprayed with any pesticides recently.
Countryside (and not in the middle of a busy town park)
Pick your dandelion flowers on a sunny day. The warmer the weather the more honey nectar they will contain.
Gather your dandelions in the morning when the flowers are fully open
It's a waste of time to pick closed dandelions (late afternoon or evening, or when it's just about to start raining)
Pick large flowers
Gently shake off any bugs or choose dandelions with no insect
Prepare your dandelion flowers
Don't wash them! (you'd wash out all the honey pollen)
Spread them out on a tray and let any bugs or flies to crawl away by themselves
Cut the dandelion stalks just under the flower head.
There is no need to pick the yellow flowers from the middle, unless you want to leave the flowers to infuse overnight in the water. If you are making the recipe in one day, you don't need to separate the yellow from the green stalk.
But if you leave the green stalk on and soak overnight, you might find that your honey could be a bit bitter.
If you can't collect the full amount of your flowers for the recipe, you can freeze the dandelion flowers and use them within the next 3-6 months. They might loose their flavour a little, but it's better to freeze them then to throw them, if you can't finish making your dandelion honey in one day.
The dandelion making process
How to check that your honey is ready
This is a similar process like for any jam making. Make sure you have at least couple of small plates in the fridge before you start boiling your honey.
When the honey is reduced and ready to be potted, double check that it will set by putting a small spoonful on the cold plate, placing it back to fridge and checking if your finger crinkles the honey in 5 minutes time. If the honey is not set within 5 minute on the plate, carry on boiling for another 5 minutes and re-test.
If your honey doesn't thicken straightaway
The thickening of your dandelion honey depends on number of variations – the source of heat, time, the amount of liquid you start with and the type of sugar you use.
If you find that your honey is still too runny after the initial boiling time, just carry on boiling for further 5 minutes or so and re-test the honey on a cold plate like you would when testing jam or marmalade.
Why do i add Lemon ?
This is quite an important ingredients, as if you use just the dandelion flowers and sugar, you'll end up with very sweet, but bland honey. The lemon also adds a bit of pectin to your honey, so it helps it to set.
If you don't have a real lemon, you can also use lemon juice.
Equipment
Jam jars with lids
Make sure that your jam jars are clean and sterilised. To do this, wash them out thoroughly and then place them on a baking tin and heat up in the oven for about 10 minutes on 100C.
Shelf Life & Storage
Homemade dandelion honey doesn't really have a shelf life expiry date. The concentrated sugar preserves the honey and it's safe to eat for a long time. We usually have ours for good 6 months, but I'm sure it would last longer if we didn't eat it!
Dandelion honey doesn't need to be stored in a fridge, just somewhere colder and dry.
If your honey crystallises in the jar, just pop the jam jar (open) it in a saucepan with a warm (simmering) water and leave the sugar to dissolve again. Don't let the water to boil. This process can take a good 30 minute to a hour depends how much your honey has crystalised, but don't rush it, it needs to be done slowly.
Hope you enjoy making this one & do let me know how you get on in the comments below!
Magdalena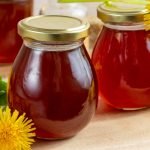 Print Recipe
Dandelion Honey
This is natural honey recipe made from dandelion flowers – a perfect vegan alternative to a traditional honey.
Servings:
1
small jam jars
Ingredients
150

g

dandelion flowers

1/2

lemon

sliced

500

ml

water

450

g

sugar

white granulated

large

pinch of

cooking salt
Instructions
Leave the dandelion flowers to rest to make sure any flies or bugs crawl away

In the large saucepan, mix together the water, lemon and dandelion flowers

Bring to nearly a boil and then simmer (with the lid on) for about 10 minutes

Switch the heat off and leave to infuse overnight or for at least 8 hrs

Strain the flower and lemon infused water through a fine sieve, making sure that you get as much liquid as possible from the mixture.

Next step is to weight the honey liquid. You should have around 400 ml -450 ml.

Match the honey liquid with sugar. For example, if you have 400ml of dandelion water, add 400g of sugar.

Add a large pinch of salt

Leave all sugar and salt to disolve, slowly on a low heat.

Once dissolved, bring to boil and carry on boiling for about 10-15 minutes.

Slide the pan off the heat and do the cold plate test. If your honey sets in 5 minutes on the cold plate, it's ready to be potted. If not, return to boil and boil for another 5 minutes.

Pour into small jam jars and immediatelly seal with lids.
More homemade recipes you might like to try
PIN THIS FOR LATER