All of my boys are now teenagers, and dealing with the associated acne that comes with the territory. However, one of the three has moderate to severe acne that we've been struggling to treat.
We have tried a multitude of over the counter items, spoken with the paediatrician for suggestions, and were considering a visit to a dermatologist when I was offered the opportunity to partner with MD Acne to test out their acne treatment solution and acne face wash and write an honest MDacne review.
Here are the steps we've taken to try MD acne
step 1 – buy md acne at your local store or online
You can use the MD acne app to help you to decide on the most appropriate type of cleanser, moisturiser and treatment cream or if you already know what you need, just purchase it separately.
Here are also few alternatives depending on your budget and how quickly you need your delivery. Online purchases are often faster than through the personalised kit route.

MD Acne Review – Guest Blog & review by Karen P.
step 2 – download the MD Acne app to your phone
To get started, we downloaded the free MD Acne app. I entered all of the necessary information, then my son took selfies of his face so the app could analyze his skin conditions and prepare his personalized kit.
Step 3 – personalised kit delivery
It took around 4-5 days for the products to arrive, faster than the estimated 5-7 days quoted, which was nice!
We opened the kit, and followed the instructions to re-open the app and receive his personalized instructions, and watched the video tutorials for additional information.
step 4 – start with your daily routine
To start your daily routine is simple. In the morning you should clean your face with your customized cleaner and apply your customized moisturizer. You can follow this by using your favourite oil-free make up. Oil free is best, as you have already applied your moisturizer and don't want to unnecessary increase the oil in your skin.
The steps are clearly outlined, and videos are offered for reinforcement as well. In the evening you follow the routine by cleaning your face with your customized cleanser and applying your customized treatment cream.
Once we knew which products to use at which time during the day, and how often, he started using them the next morning.
Within 3 days, we noticed a marked improvement. The breakouts on his face were beginning to clear up.
On day 4, we noticed some redness in sensitive areas of his face, so we consulted the app and got instructions for reduced usage for sensitive skin.
Step 5 – continue to follow your daily routine
Over weeks 2 – 4, we have continued to see improvements in existing acne, and far fewer breakouts than he was previously having. He is very precise in following the instructions and carefully washes his face each morning and evening.
our md acne results
Within 3 days, we noticed a marked improvement. The breakouts on his face were beginning to clear up.
Over weeks 2 – 4, we have continued to see improvements in existing acne, and far fewer breakouts than he was previously having.
He is still using the sensitive skin instructions, and we are very pleased with the results, they are significantly better than any system we've tried for him previously.
My other two sons have little to no acne issues, so I don't think this system is appropriate for them, mild drugstore face wash works perfectly fine.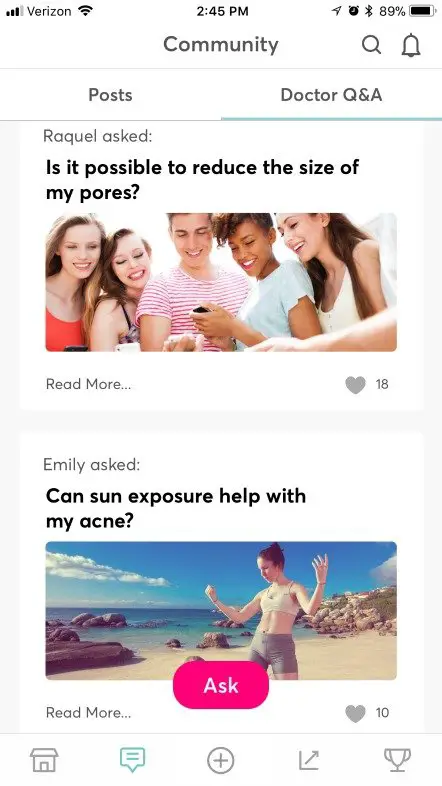 MD acne cost review
I'd also like to encourage you not to get a sticker shock when you check the price for the system. The cost of a specialized system is more than a drugstore product, but MD Acne is still an affordable choice.  You can get a 3 month supply of the products, which is great so you're not constantly shopping.
If someone in your life is also struggling with acne, I encourage you to try MD Acne cream treatment and see if it works as well for you as it has for us.
Alternatives to md acne
If you are after an alternative acne treatment you can also try Proactive 30 days step by step treatment. Please keep in mind that experiences will vary from person to person. 
Follow up care
To make sure that your acne continues to heal, it's important to use oil free sunscreens. An acne breakout means that your skin is inflamed and more sensitive to the sun. It's best to use only oil-free suncreams which will moisture your skin and protect you from the sun at the same time.
It's best to use higher SP for your sun block, but anything over SP 15 should be sufficient, unless you live or travel to very sunny countries.
Recommendation from the MD app

Product tried & tested (and review kindly written) by Karen P.
alternatives to MD acne – Buy at your local store or online
PIN THIS FOR LATER