For most people, the day starts early and ends late. There's always somewhere to go, something to do, and never enough time in the day to get it all done.
In an attempt to create a little space in the day and make the most of what extra minutes there are, many people choose a drive through or fast food instead of healthier options they could make themselves. With more than 68% of America overweight, the pattern of low-nutrient, high fat, high salt foods have created a dangerous pattern.
But there are plenty of simple steps you can take to change yours and your family's habits even when your days are crammed full. Understanding and maintaining a healthy diet shouldn't be a daunting task. Here are 12 tips to get you started:
1. Make a plan
The best way to get started is to figure out what you are looking to achieve with your healthy metamorphosis. Writing out a plan on what you want helps you keep track of your goals even when you're busy. This includes making a grocery list when you shop. This will prevent impulse buys if you stick to it!
2. Add flavour to your meals
Having varied meals is important for a healthy digestive system. Eating different types of foods helps our bodies to access varied nutrition, vitamins, and minerals which in turn help to keep our energy balanced.
You can add flavour to your meals with fresh herbs, seeds or flavoured salts. A great way to vary your meals is to add terpenes, which are naturally found in spices, teas, food, and essential oils and add light zest and fragrant aroma to your meal. This could be as simple as adding grated carrot to a salad and making the vinegarette with freshly squeezed orange juice.
3. Utilise healthy frozen foods
Keeping frozen vegetables, fruits and meats on hand can help you make meals and snacks on a whim when you haven't had time to grocery shop. Because frozen foods store for longer than their fresh counterparts, it's fine to stock up.
Use frozen fruit in a yogurt smoothie, and you can quickly microwave thaw frozen vegetables then toss them in the oven to roast for dinner. If you can remember to thaw items in advance, just stick them in the fridge before you leave for work.
4. Get your hands on pre-prepped fruits and veggies
Sure, they cost a bit more than the whole versions, but if time is against you it may be worth it to pay for prewashed lettuce or spinach. You can also find diced onions, veggies, and fruit in your produce section. All of which are healthy options and will save you time when you're ready to cook.
5. Do a pantry cleaning
It's a basic part of eating healthy—take a few minutes to remove any temptations from your pantry or fridge that might throw your efforts off track. Get rid of the full fat potato chips, ice cream, or other unhealthy options so you won't be tempted to grab them when your options are limited.
6. Keep healthy snacks in your car or a handbag
Healthy snacks like pre-portioned nuts, dried fruits, even low-calorie fiber bars are great options to have on hand when you're commuting. Reaching for one of these options will keep you full and out of the drive through.
7. Never shop hungry
Going grocery shopping when you're hungry will set you up for sure failure. Unless you have the willpower of a superhero, you'll end up buying foods you don't need or grabbing a candy bar in the checkout lane.
8. Have a fast breakfast
Eating a breakfast with protein and fiber can actually help you make better food choices all day by preventing swings in blood sugar that trigger cravings. Even if you don't have a lot of time in the morning, have some granola in a cup of Greek yogurt, my favourite Apple & Cinnamon porridge or enjoy an apple and peanut butter while you get the kids to school.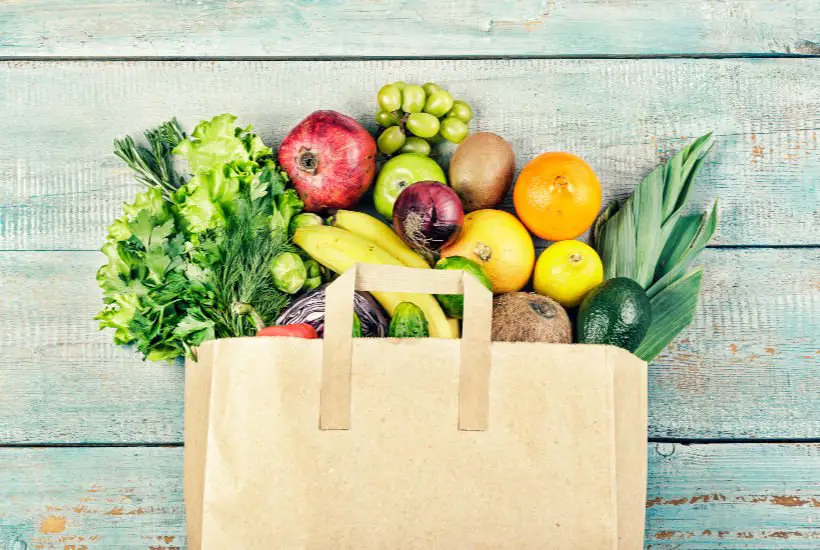 9. Make once, eat twice
Sounds like leftovers doesn't it? Actually, this strategy works for lots of foods. Simply make a double batch and keep back half to make another dish with later in the week.
10. Only make simple recipes
A late arrival home isn't the time of day to start a complicated recipe with 15 ingredients. Instead, stick to meals you know well that don't take too much effort to prepare on a busy day. For example, my Sprite dinner biscuits recipe is quick and only needs 3-4 ingredients and it's ready in 20 minutes.
11. Take the small steps
Making a lot of dramatic changes can be overwhelming and leave you frustrated. Instead of doing everything at once, try small adjustments. Once you master it, add one more until you've changed your approach entirely.
12. Consider healthy delivery
There are lots of monthly delivery services focused entirely on healthy snacks like nuts, fruits, granola and more—and you don't have to give it a second thought. Subscribing to one of these services means just the right foods arrive at your door and all you need to do is enjoy them.
13. Make freezer meals ahead
Take advantage of an hour or two over the weekend to make a few meals you can bake from frozen. Double the batch and you'll have another recipe you can enjoy in a couple of weeks. If you don't know where to start, do a search for healthy freezer meals and see what you like.
Choosing healthy foods over so many other options can feel like a difficult task, and there are sure to be times when you won't make the right choice. But instead of letting it get you down, arm yourself with the right tools for success and customize what you eat to the needs of your body.
A nutrigenomic test may help you learn more about how you use vitamins and nutrients on a genetic level and help you choose foods that will make the biggest health impact for you, no matter how busy you are. This is one more tool in your goal of understanding healthy choices that can be incorporated into your daily life.
More on Health & Welness
Stay in touch
Hope this post inspires you and of course, I'd love to know what you think! Let me know in the comments below or find me on Instagram, Facebook or Twitter and add the hashtag #practicalfrugality so that I can see your post.
Or why not subscribe to my weekly newsletter with frugal living tips and recipes straight to your mailbox.
Magdalena