Photo Credit: Nubiagroup.Blogspot.com
Happy Thanksgiving dear readers. I hope you are all Blessed this year and enjoying a fabulous day of Giving Thanks! Here are some funny Thanksgiving Quotes and Sayings to entertain you leading up to the Big Day.
Photo Credit: WWNN.co.uk
Photo Credit: Cool Holiday Graphics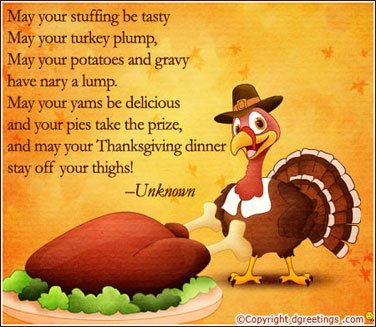 Photo Credit: dgreetings.com
Photo Credit: s3.hubimg.com
Photo Credit: s4.hubimg.com
Photo Credit: 1.bp.blogspot.com
Photo Credit: joannecipressi.com
Photo Credit: http://2.bp.blogspot.com
*UPDATED*
Since I first published this post in 2012, it has remained one of my top posts throughout the month of November. I've found a few products, some that I've purchased or given as gifts, that I thought some of you might be interested in as well. These are affiliate links, purchases made after clicking these links help support this blog, and is appreciated!
I try to find things that I think will actually interest you and help you out. Please leave me a comment with which item or quote/saying above is your favorite so I know what type of items to continue to share with you!