Painting on stones and pebbles can be so much fun. Each stone has a different shape and depending on what it reminds you, you can turn it into a different animal or completely made-up creature.
I love painting on stones and it's also so lovely to see painted rocks when we go out walking in the town or local park.
In addition to painting happy rocks to plant in the area for others to find, I also like using them in our own garden or to decorate my flower pots indoors.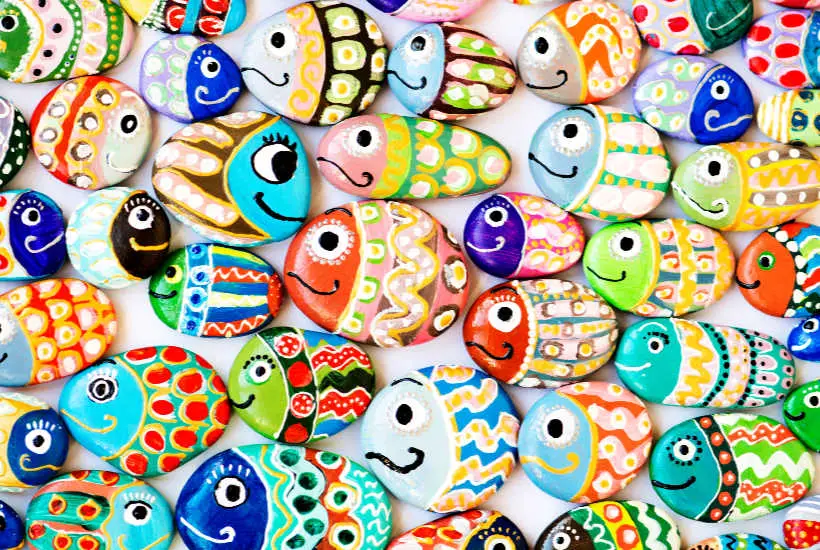 And I'm sure you'll find that the kids especially like animal painted rocks. It's a fun way for them to express their creativity, and if you stick to a theme, such as sea creatures, you'd even be able to use them in an aquarium!
Since we live less than an hour from the beach, and I don't like swimming in the cold sea, I like to walk up and down the beach looking for sea shells.
I use them as decorations in a variety of ways, and during my last visit to a craft fair, I was inspired to paint some of the seashells.
It's so fun to turn painted seashells into sea creatures and other animals. These can serve as stand-alone crafts, aquarium crafts, as borders on picture frames, Christmas Ornaments, and make really cute gifts.
Painted Rocks & Seashells Supplies needed
Rock Stones
When choosing the rock stones for your project, check out the size and the colour to make sure it goes well with your project.
You want to make sure you have big enough area to paint, but trying to paint just large stones might be a bit intimidating to start off with.
A smaller stone is easier to paint and you can use a simpler design. I normally buy stones that are mixed size to give me the most options.
Always buy smooth stones to make sure you can easily paint on them.
Stones Painting kits
Get inspired by stone painting kits, that contain everything you need to get started, including smooth pebbles or stones, paint, pencils and other material. Suitable for children from 3 years old.
How to get started with painting on stones, pebbles or sea shells
What kind of paint do you use on rocks?
Any durable and permanent paint is fine to use on stones. Have a look what you already have at home. I've previously used glass painting paints, paints for hard iron surfaces or even basic paints for wood.
But if you are working on this stone painting project with children, you'll probably want to use some non-toxic paints such as acrylic paints. You can get so many different shades and you can even mix them together to create your own perfect colour shade.
Acrylic paints are suitable to use on porous surfaces and they are durable, which means that you can leave your stones outside in the garden to decorate your plant pots.
You can also use any other permanent paints, such as oil based paints or permanent markers.
How do you prepare rocks for painting?
It's quite obvious that you can't just pick a stone and start painting on it, but there are few steps that are good to follow if you want to get that perfect finish – a painting that's not going to peel off or get damaged because you've not prepared your stone before hand.
So, first of all wash your stone properly in a soapy water and leave them to dry completely. The drying bit can take a few hours.
If you want to you can first seal the stone with a base colour (either white or clear colour) and leave it to dry again. After this treatment, your stone is ready to be painted on.
What do you use to seal painted stones?
If you want to place your painted stone outdoors or even want the beautiful rock you've just painted to last a long time, it's best to seal the painting with a thin coat of see-through paint. You can use spray sealer or clear varnish.
One coat of clear varnish is usually enough, just make sure that your painting is completely dry before you seal it.
Afterwards, leave the rock to dry somewhere cool and dry for at least 24 hrs, before placing it outdoors.
Can you use Sharpies to paint rocks?
Yes, you can use Sharpies to paint on rocks, stones and pebbles, but you need to be careful about how you seal your stones (or don't seal them at all and just use them indoors).
Painted Rocks & Seashells Instructions
Find or purchase some rock stones, pebbles or seashells
Clean and wash your stones and seashells leaving them to dry
Once your stones and seashells are dry, prime them with a coat of paint (optional)
Use paint to decorate your stones and turn them into the sea creatures you desire (or anything else!)
Leave to dry
Seal with a coat of warnish
Leave to dry & enjoy decorated stones by arranging them in the garden or indoors.
Rock painting books
Stay in touch
Hope this post inspires you and of course, I'd love to know what you think! Let me know in the comments below or find me on Instagram, Facebook or Twitter and add the hashtag #practicalfrugality so that I can see your post.
Or why not subscribe to my weekly newsletter with frugal living tips and recipes straight to your mailbox.
Magdalena
PIN THIS FOR LATER
Posts may contain affiliate links. If you purchase a product through an affiliate link, your costs will be the same but Practical Frugality will receive a small commission. This helps cover some of the costs of running this site. We appreciate your support!