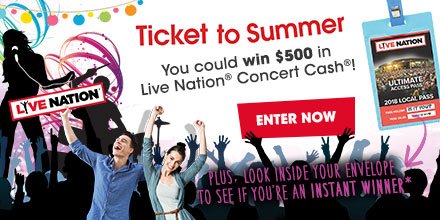 Now through 10/7, customers can buy three concert tickets from Live Nation and get one free for participating shows at amphitheaters across the country. Visit this page to see eligible shows and to purchase tickets.
From 6/26 – 7/20, enter for a chance to win either $500 in concert cash (one winner) or $200 in concert cash (three winners). To enter, visit the sweepstakes page on Valpak.com.
One lucky winner will find the Live Nation Ultimate Access pass inside their Valpak envelope. The pass entitles the recipient (+1) access to all Live Nation concerts of their choice in 2018!

My Favorite Concert Memory:
I have been fortunate to attend many concerts over the years, but the favorite would have to be New Kids on the Block when I was a teenager! I went with my brother and his best friend who were probably around 10 or so, and we had the best time singing and dancing (even though neither one would probably admit to it now, haha!). We knew every word to every song, bought t-shirts, and almost got our cameras confiscated because we didn't know we weren't allowed to take pictures (with a 110 film camera – to date myself!).
A few years later, when I was in college, there was an outdoor amphitheater in our town that offered steep discounts to college students, so we were able to see many of our favorite bands play. It's always more fun to attend with a group of friends – and make memories that will last a lifetime – and this deal is a great way to entice some friends to join you for a show in your area!
What is your favorite band or concert you've attended???